What Can The Micro-Air FX-2 Cabin Control Do For You?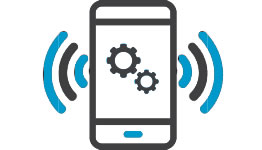 Cooling or Heating Your Cabin From Any Location Has Never Been Easier. Our Free Smartphone App Puts That Control In Your Hands.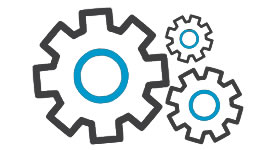 Supports The Latest FX-2 Control Displays As Well As Fully Compatible With All Of The Legacy FX-1 Control Displays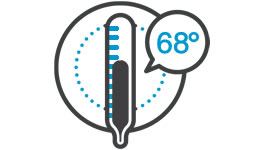 Monitor Cabin Temperature And Humidity, Outside Air and Sea Water Temperature To Avoid Potential Equipment Damage!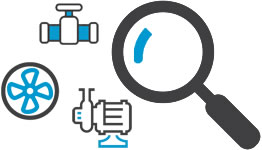 Visually See What Components Are Starting Up, Already Running Or Shutting Down Easily Using Our Display or Smartphone App
Meet The Micro-Air FX-2 Control Board
The FX-2 Control Board is the most advanced and finest cabin control manufactured by Micro-Air in the marine HVAC industry. It not only provides support for the latest FX-2 control displays, it supports all of the legacy FX-1 control displays as well.

Built with the same "overengineered" attention that Micro-Air gives to all of its products, the FX-2 Control Board lends to your cabin's climate control the 21st century feel that your modern (or modernized) vessel deserves. Along with the EasyTouch™ WiFi-enabled wall control, you can control your boat's A/C from your restaurant table, car, home or desk, anywhere in the world that there's WiFi, -- adjust the temperature and fan speed anytime you like.
Features
Features:
-- Universal 115/230 VAC 50/60 Hz power supply
-- 2HP compressor output and 1/2 HP sea water pump output
-- Reversing valve AC output controls either valve or electric heater
-- High and low refrigerant pressure switch inputs
-- 8-pin RJ-45 Display Interface
-- Alternate (remote) air temperature sensor
-- Outside air temperature sensor
-- Service (condenser) temperature sensor for Pump Sentry
-- Built-in CAN bus support (rev K and newer)
-- Built-in support for up to 2 combo temp/humidity sensors for cabin humidity control or for FAMU operation (rev K and newer).
-- Optional daughterboards for DC blowers and EasyStart
Model Number(s):
-- ASY-360-XM1 (standard board only)
-- ASY-360-XM3 (standard board in metal elec box)
-- ASY-360-XM4 (w/ DC Blower d/b & in metal elec box)
-- ASY-360-XM5 (w/ EasyStart d/b)
-- ASY-360-XM6 (w/ EasyStart d/b & in metal elec box)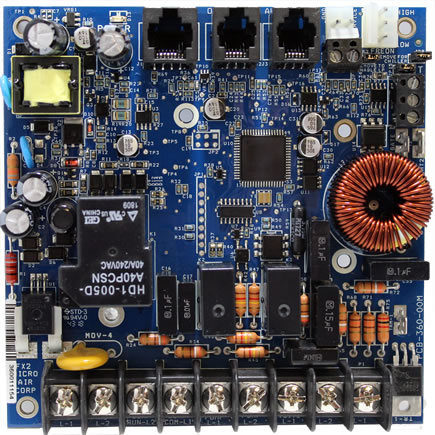 Customer Testimonials
Manual control upgrade to FX2 with EasyTouch Display

We really like the EasyTouch control with the FX2 control board. Now the temperature stays at a comfortable level. The fan cycles on and off and runs at a slower speed. Making it much quieter when operating. It was a great addition to the boat. We are planning to add a second control for the aft A/C.

Elliott Elkin